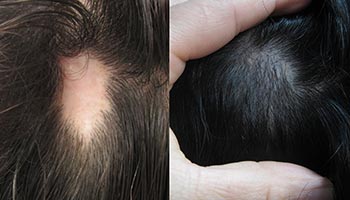 Hair transplant scar revision is a delicate procedure of removing an old
hair transplant
scar. Dr. Sean Behnam has spent years experimenting and researching newer techniques to revise the scar. Below are a series of FAQ pertaining to hair transplant scar revision.
It is important to note that there are two different methods of revising a scar. Either cutting it out or implanting grafts into it. In the latter option a technique called scar camouflage using the
Follicular Unit Extraction
 procedure to remove the grafts. The FUE method of extracting the grafts does not leave a linear scar.  Scar camouflage depends on the number of grafts needed.  During the consultation, Dr Sean will inform you on the number of grafts needed.
It will reduce the tension on the back of the scalp when the strip of tissue is removed. Tension between the upper and lower skin edges is what leads to stretched scars. Dr. Behnam uses a double layer closure during the procedure. This is when the inside of the incision is closed with dissolvable sutures and outside of the incision is closed with staples. The inner sutures reduce tension and the outside staples prevent stretching of the scar. Dr. Sean also uses the trichophytic closure technique. In this technique, a special cut is made such that when the incision is closed , there is a slight overlap. This allows hair to grow into the the scar. This makes the area much less noticeable and patients can cut their hair much shorter than they could before the scar was revised.