Medical Non-Surgical Solution to Hair Loss
There are many modalities of non-surgical solutions to maintain and regrow hair. Below I will list the most important ones.
As an overview, seeing over 20,000 patients, we have realized that what people mainly want are medications that are evidence-based, carry the least amount of side effects, and have the highest level of efficiency. With this said, over the past years, we have searched literature for evidence-based medications that work. Although Finasteride orally works well, the potential side effects are a cause for concern and a lot of people shy away from it. Further, people do not want to take an oral medication that may have effects on other systems just to help with hair loss, where a topical medication can be as or more effective.
1. Topical compounded prescription-strength Finasteride, Minoxodil, Retinoic acid, Azelaic acid
This woman had a patch missing and it regrew back after only 4 months of using the topical solution twice a day:
This gentleman has been using the topical medication for 3 months, mainly in the crown area. Notice the amount of hair growth he is having. It's amazing!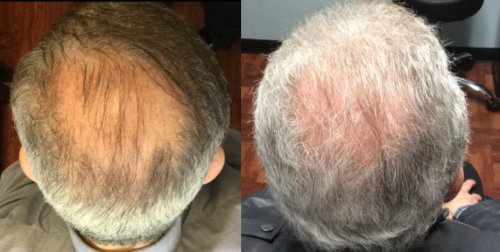 Over the past many years we have done a lot of research on the literature and we have found that topical medications are very effective (see below for articles on evidence-based medicine). In short, we can give patients a topical solution that is a compounded form of Finasteride, Minoxidil, Azelaic acid, and Retinoic acid. This combination works well.
This gentleman has been using it for only six weeks. On the before picture, the scalp is visible and there is a lot of see through. On the after picture, the hairs look stronger, thicker and there is less see through.
The topical version of Finasteride carries a  minimal side effect profile compared to oral Finastride, but has a very similar efficacy.  Combining Minoxidil and Retinoic acid increases efficacy of Minoxidil. Adding Azelaic acid independently also increases the efficacy. These medications are compounded together by a compounding pharmacy in a solution that can be easily applied to the scalp twice a day. Below are some examples.
This woman has been using the solution for a few months. Notice how thicker the hair has become and there is less visible scalp:
This woman has been using the topical medication for four months, Notice how much more hair she has on her forehead and its much thicker:

Since this is a compounded medication, we can easily change the concentration of the medication or remove medications that specifically patients do not want and create a special formula individually for patients. There are 6 variations of the compound depending on many factors. For information about this compounded topical solution, please call the office and set up a consultation with us (310) 315-4989.
Evidence based medicine articles for the componded topical 
Finasteride

, Minoxidil, Aetinoic and Azaelic Acid:

- Article demonstrating that topical Retinoic Acid added to Minoxidil enhances efficacy is 

HERE.

- Article demonstrating that topical minoxidil plus 

finasteride

 can maintain results of oral 

finasteride

: 

HERE

- Article demonstrating that plasma DHT levels reduced by 68-75% by topical 

finasteride

 0.25% compared to 62-72% DHT reduction with oral 

finasteride

 1mg. 

HERE.

- Article demonstrating that topical finasteride 0.25% reduces scalp DHT while minimizing side effects.  

HERE

-Article demonstrating that the therapeutic effects of topical 

finasteride

 were similar to oral 

finasteride

. 

HERE.

- Article demonstrating that the efficacy of Minoxidil 5% plus Retinoic Acid  0.1% is much stronger that minoxidil 5% by itself and the efficacy of the combination medication once daily is equivalent to minodixil twice daily. 

HERE.

2. Oral Propecia. There are many evidence that oral Propecia works well for regrowing hair. However, the side effects profile is slightly troublesome. Over the past many years, a lot of my patients have complained about needing to take an oral medication that affects their entire body if they can very simply add a topical medication on top of their scalp, thus prompting us to use the compounded topical Minoxidil and Finasteride combination. However, some patients still choose to use oral Finastride and that is perfectly fine. It is important to discuss with your physician the side effects profiles, which include, sexual dysfunction, depression, and an abnormal increase in liver enzymes. There are ways to increase sexual dysfunction. If you're interested in oral Finasteride, you can discuss it with Dr. Sean and he will guide you on how to minimize sexual dysfunction.

3. Topical Minoxidil 5%: There are a lot of evidence that topical Minoxidil 5% works. However, it is not magic. It can be purchased over the counter. At our office, we compound Minoxidil to 8% and combine it with topical Propecia, Retinoic and Azelaic acid to boost the results.

4. Laser Cap Treatment. Laser cap treatments LED lights does work for some people. However, it is not perfect and does not work for everybody. Unfortunately, the cost could be a factor for some people. However, it is also a solution that one can add to a regimen to get better results.