Capillus Laser Hair Loss Treatment Cap
Capillus Laser Hair Loss Treatment Cap
At Dermatology & Hair Restoration Specialists we offer the Capillus laser cap and a 12 month, no questions asked 100% guarantee for those who purchase one.
Over the years, some have claimed that laser therapy can grow new hair. We do not believe that this is true, but we have seen all patients who consistently use laser therapy enjoy thicker hair. Especially those who are just starting to thin and not yet transplant candidates. Laser therapy could help this patient to never become a transplant candidate. Home laser devices may be shared and can be used by those who have no hair loss but would like thicker hair.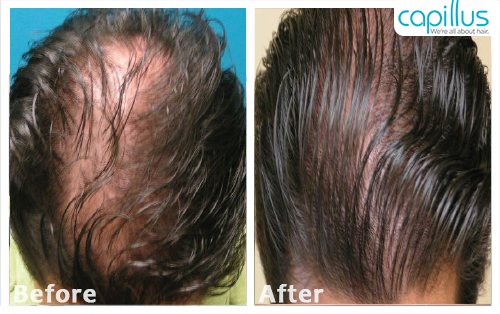 It has been F.D.A. approved for safety and effectiveness. There are cheaper laser home devices, and though most are F.D.A. approved for safety, the Capillus has also been approved for effectiveness. To us, this means that the Capillus laser hair loss treatment cap has the proper setting to ensure that patients using the device get the maximum benefit. What does this mean "proper setting?" Without getting too technical it is important to note that lasers have different settings based on their purpose. Obviously a laser that is used for cutting is at a much different setting than a cold laser that is used for healing. It is also important to note that over the years it has been discovered that there is an optimal setting and usage to get optimal result. This is why the F.D.A. approval for effectiveness is so important to us. Any product that we recommend, we stand behind- hence the 100% guarantee. In spite of the guarantee, we do not want our patients wasting their time on a remedy that has not been fully researched and has had every possible effort made toward effectiveness. We have been selling the Capillus laser hair loss treatment cap since November of 2014 (shortly after it received its' effectiveness approval), and we have not had a single patient unhappy with the results they have received. We are not claiming magic. The bald man will not get a full head of hair from laser therapy. We are guaranteeing that patients who use the Capillus laser cap will have a reversal of thinning. The company (Capillus) says that "some patients" will experience up to a 22% increase in volume. Our experience has been that all who have purchased a hat has experienced an increase in volume.