Men's African American Hair Transplant
Dr. Sean Behnam MD, ABHRS, specializes in African American hair transplant. He performs both the FUE and FUT (Strip) method. His niche is in Ethnic hair Follicular Unit Extraction (FUE). Dr. Behnam is a diplomate of the American Board of Hair Restoration Surgery (ABHRS), and endorsed by International Alliance of Hair Surgeons (IAHRS) and the American Hair Loss Council.
Dr. Behnam is a dedicated hair transplant physician, meaning he doesn't do any thing else except hair restoration. He is very experienced in men's African American air transplant Los Angeles and he takes each procedure seriously. In Addition, since most other physicians do not perform FUE on African American, Dr. Behnam has dedicated himself to performing a lot of FUE in ethnic patients. In fact, Dr. Behnam has developed his own FUE tools which enables him to extract grafts better.
Other Picture Galleries
African American Women Photo gallery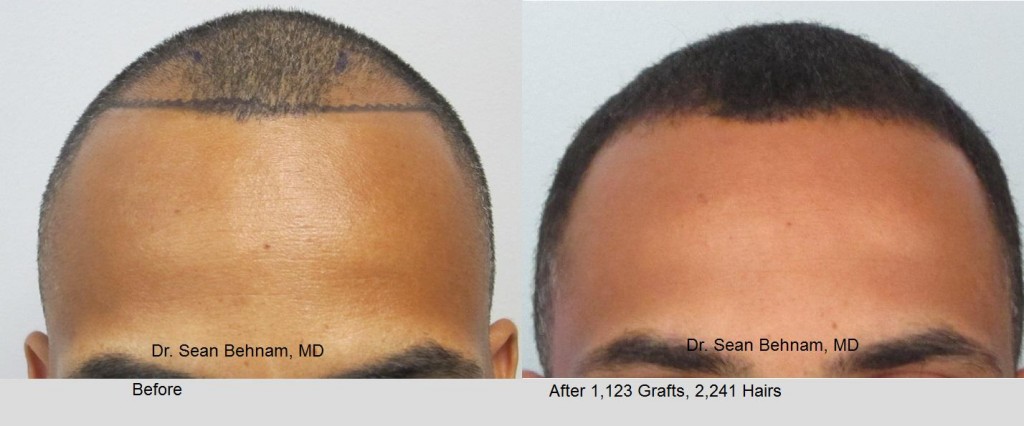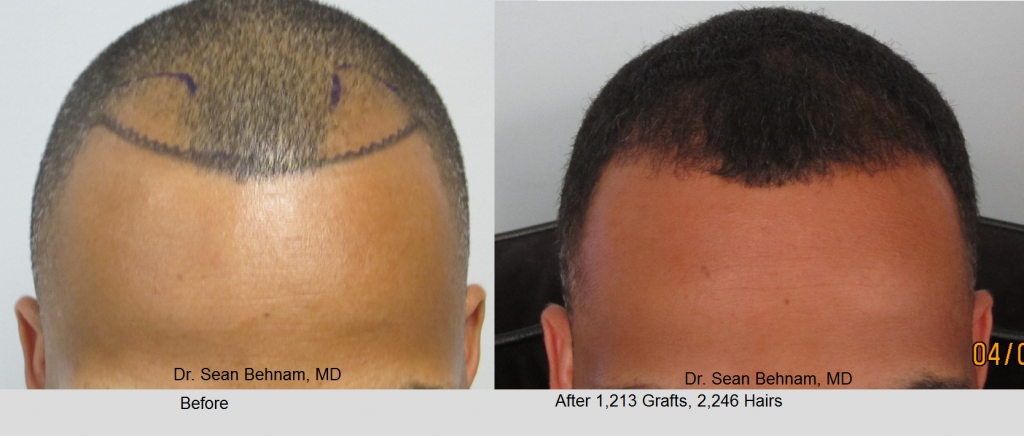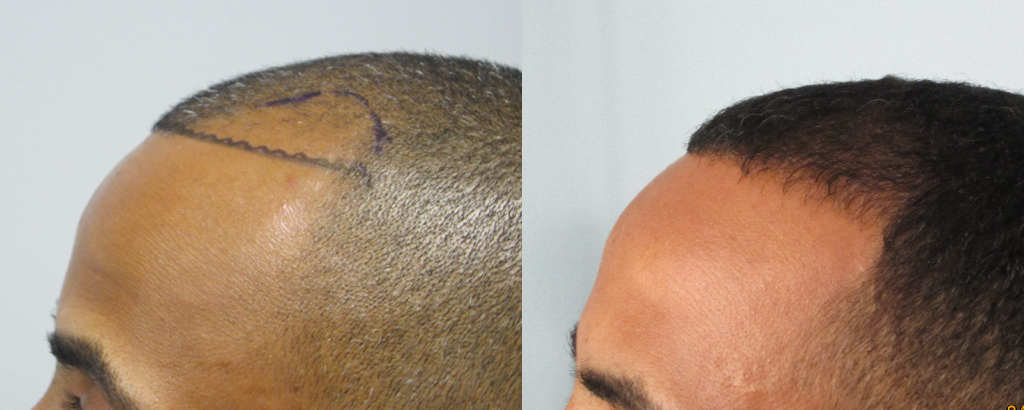 Why is FUE in African Americans more Challenging than Caucasian hair FUE?
Beacsue ethnic hair is curly and even most dedicated hair transpalnt surgeons are not used to it. Dr. Behnam has performed many many FUE cases on curly hair with great results. Dr. Behnam has learned how to curve the needle as he does the punch. This way the grafts come out fully intact, Not transected. Please evaluate the picture below. The grafts were obtained via the FUE method. Please notice how curly the grafts are , yet they look pristine, fully intact grafts with two and three hair follicles. They have great tissue. By learning the degree of curvature, Dr. Behnam curves the needle as it goes through the skin.
Further, Dr. Behnam makes his own FUE utensils. So he is both the surgeon as well as is involved on the engineering side.
Why experience in curly hair is important een when performing FUT (Strip ) procedure?
Since African Americans have curve hair, Dr. Behnam has trained his technicians to very carefully disesect the grafts under the microscope following the exact curve of the hair follicle. Dr. Behnam utilizes more technicians than others to ensure an efficiency yet highest quality.


How hair transplant cases does Dr. Behnam perform a day and why it this important?
Dr. Behnam performs only one case per day. This is the MOST important criteria in achieving great results , specially with curly ethnic hair. Everybody is focused on you. There is absolutely no other hair transplant patient distracting the doctor or technicians. This is Dr. Behnam's philosophy and is very important. Dr. Sean Behnam practices in Los Angeles.