Eyebrow Transplant Los Angeles
When full and lustrous, it's amazing how one small strip of hairs can completely change the appearance of someone's face to a more youthful look. Dr. Sean Behnam specializes in eyebrow transplant.
The most overlooked symmetrical aesthetic facial features are the eyebrows; lush eyebrows frame the face and help us communicate through expression.
Dr. Sean offers eyebrow transplants in his Los Angeles office.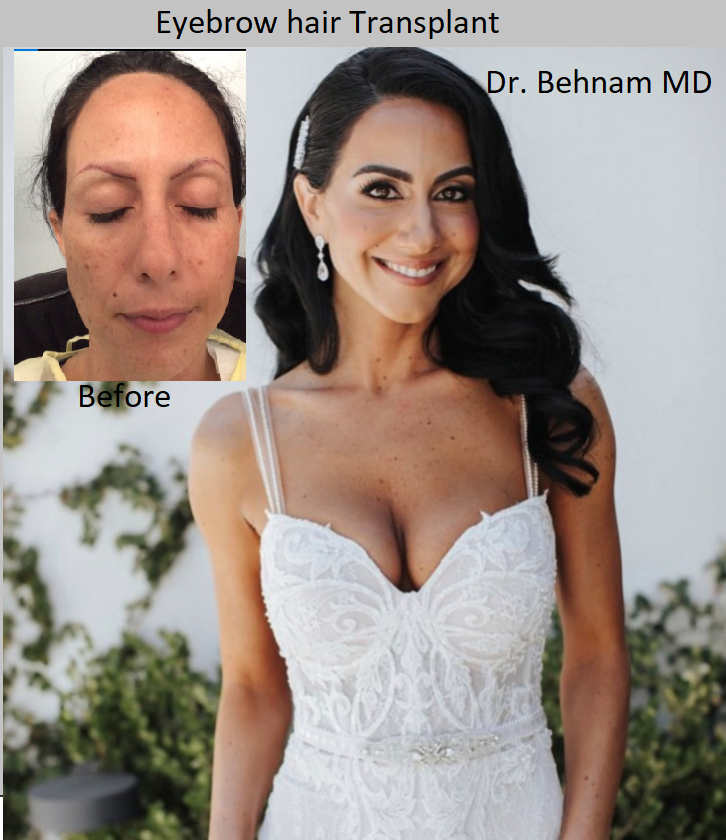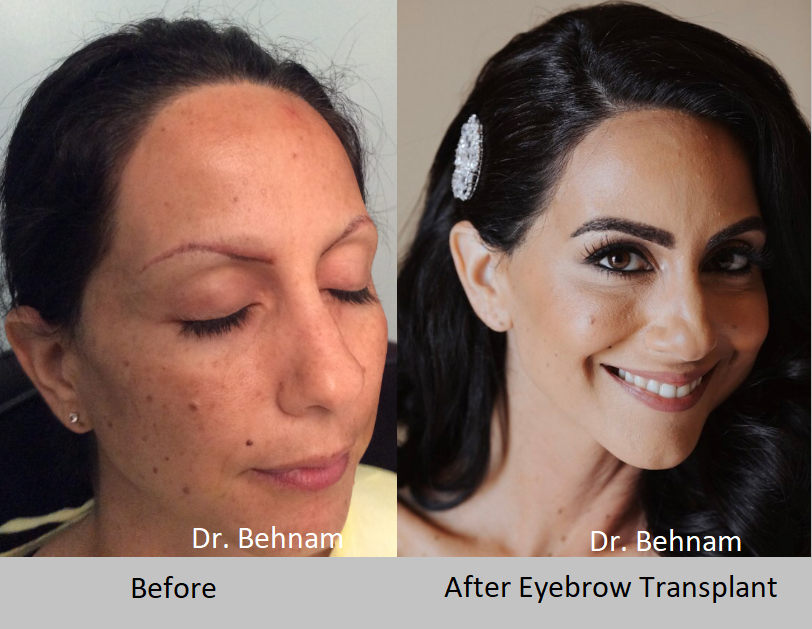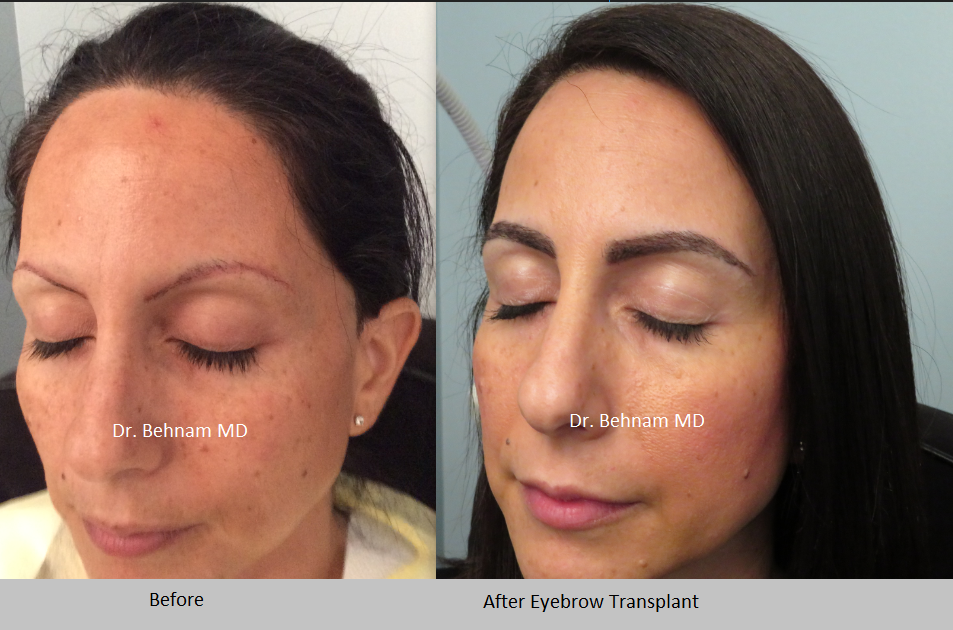 Los Angeles Eyebrow Transplant
Thin eyebrows or eyebrows that have disappeared could be due to age, heredity, plucking, trauma, and/or burns. An eyebrow transplant gives you growing hair permanently and restores beautifully shaped eyebrows. Eyebrow transplant can also make thin eyebrows look much fuller or cover scars more effectively.
Eyebrows, or well-sculpted brow lines give harmony and are integral part of facial balance and aesthetic symmetry. Since eyebrows have their own unique characteristics, eyebrow implants is different from hair transplants in a number of important ways.
Eyebrow Hair Transplantation
Eyebrow hair emerge from the follicle at a very acute angle. This results in eyebrow hair to rest almost flat to the eyebrows skin's surface. The most important aspect of any hair transplanting, scalp or eyebrows, is to follow and mimic the natural hair direction very closely. For eyebrow transplant the recipient sites should be made with an ultra fine-gauge needle to ensure that the hair will lie flat.
Most important Dr. Sean only inserts single micrografts into recipient sites at very acute angles. The procedure require a considerable amount of skill and experience. In case the patient's hair is waved or is curly, it is important to rotate the hair so that curve of the hair shaft follows the natural curve of the eyebrow.
Eyebrow hair transplant is unique and in many ways challenging since the upper hairs of the eyebrow are usually pointing out and slightly downward and the lower part pointing out and slightly upward, creating an interlocking ridge that gives eyebrows their fullness.
Dr. Sean will design the size and shape of the eyebrows with a marker first and will then continue with the procedure. Dr. Sean will only use very fine, soft hairs and angle them flat against the brows so they will look natural.
Eyebrow Transplant Testimonial
Eyebrow Transplant in Los Angeles
An eyebrow hair transplant can be nearly painless and can use anywhere from 30 to 300 follicular hair units (FUE) per brow. If your eyebrows are disappearing, are misshapen, or just never appeared to begin with (as sometimes happens), stop penciling and stenciling them on every morning. An eyebrow hair transplant is a quick outpatient procedure that can be completed in one afternoon and can heal fully within a few weeks.
Donor hairs are harvested from your scalp by the surgeon. With the patient under mild sedation, tiny incisions are made at a natural angle and the hairs are grafted onto your eyebrows. Hundreds of hairs can be placed during the procedure, depending on your specific goals.
Typical recovery time is less than one to weeks. During the initial recovery period, some flaking and crusting may occur near the transplanted hair, followed by slight pink discoloration. If sutures are used in the donor area, they will be removed after one week. Transplanted hair will often fall out after the procedure, but it should grow back on its own.
Arrange a consultation with our surgical team find out if an eyebrow hair transplant might be right for you.