Hair Transplant Procedure
Hair Transplant Procedure Los Angeles (Men's Hair Transplant Gallery | Women's Hair Transplant Gallery)
Hair transplant is more than just a medical procedure. It's an artistic expression. Hair transplant grafts are carefully and artistically placed to create a natural appearance. The identification of naturally occurring tiny bundles of hair called hair transplantation grafts or "follicular units" has been fundamental to the advancement of surgical hair transplantation. Each follicular unit or hair transplantation graft has 1 to 4 hairs.
A natural looking hair transplant involves planting hair transplantation grafts in a manner to present a natural hair line and natural looking hair growth.
The way Dr. Behnam creates the recipient sites determines the aesthetic look of the transplant. He carefully sets the angle at which the new hair grows and determines the distribution and density of the grafts. This is a critical aspect of hair transplant surgery that requires considerable experience, surgical skill and a keen aesthetic sense. Dr. Behnam carefully examines each patient so he may plan and perform a procedure with the best possible outcome. Also, using current techniques, at the end of the hair transplant procedure, patients can leave with only a headband. Patients can shower and shampoo their hair the next day. The process has been streamlined such that patient have a minimal recovery period.
There are many aspects to a successful hair transplant. Our hair transplant consultation page also gives you information about how each potential patient is evaluated and what to expect.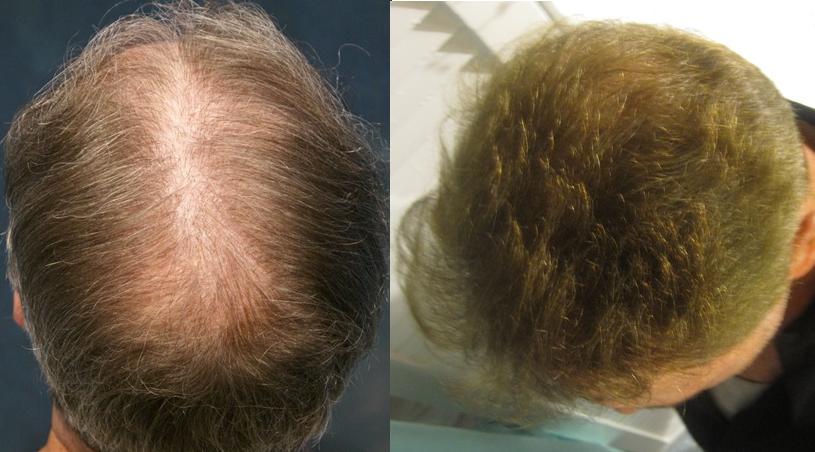 The images above show a mastery in the art of refinement, blending, balance, proportion, and shading. Dr. Sean has pioneered many major advancements in the field of hair transplantation in regards to natural variation in color, texture, and direction.
Dr. Sean dedicates a full day to each surgery taking his time in all aspects involved. Hair transplant is an outpatient procedure that does not require general anesthesia. A local anesthetic is sufficient. Patients are provided lunch and a relaxing atmosphere. The room is also equipped with TV so patients my watch movies during the procedure. Our building is rated as a class A medical building and all of our equipment is state of the art.
Hair Transplantation Los Angeles
During the surgery hair is harvested from the back of the scalp where hair is dense. The hair is moved  to the areas that need filling. Dr. Sean performs both strip harvesting and follicular unit extraction, also known as FUE.
In strip harvesting, a strip of tissue with significant amount of hair is removed from the back of scalp and moved to the front. This removal will not be noticeable after the procedure (see picture below). Dr. Sean has also pioneered an innovative method where there will be minimal scaring and with slight hair growth  within the scar so the scar will be minimized. In FUE procedure, individual grafts are harvested one at a time from the back of the scalp and then planted in balding areas.
This new innovative technique requires many years of experience. Dr. Sean is among  the few doctors in California to have mastered this operation. After the FUE operation, the donor area heals within just few days. Since hairs are individually removed, this leaves very minimal scarring so one can have a very short haircut and without the scarring being visible.
Using Acell To Minimize Scaring
Acell is a protein scaffold that is derived from pig bladder. It contains growth factors and it promotes wound healing. Overall, studies have indicated that it reduces scarring. At the ISHRS (International Society of Hair restoration) meeting, it was demonstrated that the use of Acell in FUE decreases the size of punch scar from 1 millimeter to 0.6millimeter, meaning that once the site of the punch heals, the scar is much smaller than the punch size itself.
This can be demonstrated by the video below, where FUE was preformed using 1 millimeter punches and we asked our patient to come back one year later. We shaved the area that the FUEs were done. Please look at the result. It is very difficult to decipher that many punches were made in that area.Another study has demonstrated that 54% of grafts removed via FUE would regenerate in the donor area. This does not mean cloning. But, it probably indicates that if part of a graft is not fully removed using the punch, Acell may help it regenerate. Again, Acell does not do magic, but its use in FUE hair transplant and FUT (Strip Method) promotes minimal scarring and even some regeneration of some hair follicles in the donor area.
Los Angeles Hair Transplants
All of the artistic procedure of hair removal and hair site creation, which involves correct planting angles, direction and orientation is solely performed by Dr. Sean himself. Experienced technicians to create individual hair transplantation grafts from the strip. Dr. Behnam has mastered a unique technique where the exact angle and direction of each graft is optimized for the maximum redistribution of transplanted hair to achieve an aesthetic and artistic hair density.  The new transplanted hairs experience a healing period and grow the same way as your normal hairs grow. They start growing 3 to 4 months after the procedure.
To initiate a faster healing process, Dr. Sean allows for an additional thirty minutes of laser light therapy session after the surgery.  Nine more sessions of laser light therapy are given during the regrowth to stimulate the hair to grow quicker and thicker. No bandage is necessary after the surgery.  Dr. Sean's  and his staff  guide each patient through the healing process. Detailed instructions ar given on how to wash and care for the new hair.
Patients from all over United States and the world  fly to Los Angeles to consult with Dr. Sean. RDr. Sean Behnam's artistic mastery has won him world wide reputation as a true pioneer and teacher. His artistic gift and talent combined with scientific surgical skills is well known beyond Los Angeles. In the field of FUE, there are only a handful of Doctors who can perform this sensitive procedure correctly and Dr. Behnam is one of them.
Dr. Behnam has also created innovative solution for eyebrows, moustaches, beards, and sideburns.