Customized, Rx Strength, Topical Finasteride + Minoxidil Solution for Hair Loss
Proprietary formula of topical Finasteride + Minoxidl 8% + Reinoic Acid
All Rx strength ingredients
Clinically proven to increase hair growth (see clinical studies)
Compounded prescription and customized just for you
Delivered to you on monthly basis
Developed by Board Certified Dermatologist & Hair Transplant Surgeon
Topical Finasteride has lower sexual side effects in clinical studies than oral Finasteride
100% support by email and phone by Dr. Behnam in Los Angeles, CA
Online consultation with a Dermatologist (free)
Doctor evaluates the hair loss
If quality, doctor sends RX to the pharmacy for the topical solution
Topical formula is customized based on age, sex, and pattern of hair loss
Topical formula gets shipped out for arrival in 4 to 6 days
Monthly subscribers get a new bottle monthly
What is the Proprietary formula?
Our formula is a blend of 3 prescription strength medications made by Board Certified Dermatologist and Hair Transplant physician located in Santa Monica, Ca. It contains the following three active ingredients.
Topical Finasteride

Minoxidil 8%

Retinoic Acid
The formula is customized and compounded on a monthly basis for our patients. The mix has been shown in clinical study to stimulate hair growth when applied on the scalp. Please click here to see all the original clinical studies. But better yet, look at the testimonial photos and videos of our patients below.
What are the Pros of topical Finasteride + Minoxidil 8% + Retinoic Acid
Oral finasteride causes hair growth but has significant side effects of sexual dysfunction, decrease libido, and erectile dysfucntion
Topical finasteride has clinically proven, evidence-based, scientific data to show its efficacy in growing hair while lowering the risk of systemic side effects since it is not taken orally
Topical minoxidil exists over-the-counter as Rogaine. However the strongest version over the counter is 5%. Our formula contains prescription strength 8% minoxidil, for better results.
Topical Retinoic Acid has been shown in clinical studies to increase the efficacy of minoxidil. In fact, patients using topical minoxidil with retinoinc acid had to only use the medication nonce a day to achieve the same result as regular minoxidil applied twice daily.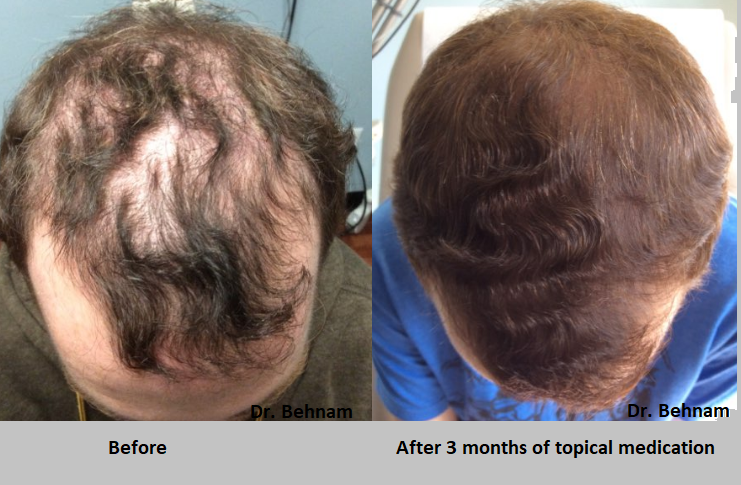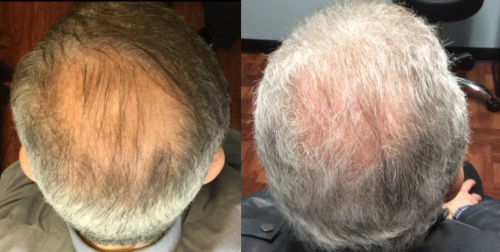 The topical version of Finasteride carries a minimal side effect profile compared to oral Finastride, but has a very similar efficacy. Combining Minoxidil and Retinoic acid increases efficacy of Minoxidil. Adding Azelaic acid independently also increases the efficacy. These medications are compounded together by a compounding pharmacy in a solution that can be easily applied to the scalp twice a day. Below are some examples.

Since this is a compounded medication, we can easily change the concentration of the medication or remove medications that specifically patients do not want and create a special formula individually for patients. There are 6 variations of the compound depending on many factors. For information about this compounded topical solution, please call the office and set up a consultation with us (310) 315-4989.
How Do I Order and Start a Subscription?
It's very easy and simple!
Do an online consultation with one of our doctors
If the doctor approves the formula, you fill out a subscription form
You will receive your first bottle in 4-6 days
$75 per bottle
A new bottle gets shipped out monthly
No contract
Cancel any time
Questions? Email or call the office at (310) 315-4989
You have questions, we have help!
Here are some frequently asked questions (FAQ).
Yes it is. You can cancel at anytime if you want.
Yes it really works but results may vary.
Yes you may cancel at anytime in your account dashboard or by contacting us.